U.S., Canada and Mexico Customs Services
At Trans American we provide Customs clearance services for U.S., Canada and Mexico. As a top 20 U.S. Customs broker1, we are serious about regulatory compliance, security protocols and best practice. Our more than 35 years' experience means we aren't afraid of getting dirty in the detail to keep our clients abreast of the ever-changing nature of customs regulations. And our pioneering of nearly 20 industry 'firsts' means we never stop looking for ways to gain an edge for our clients.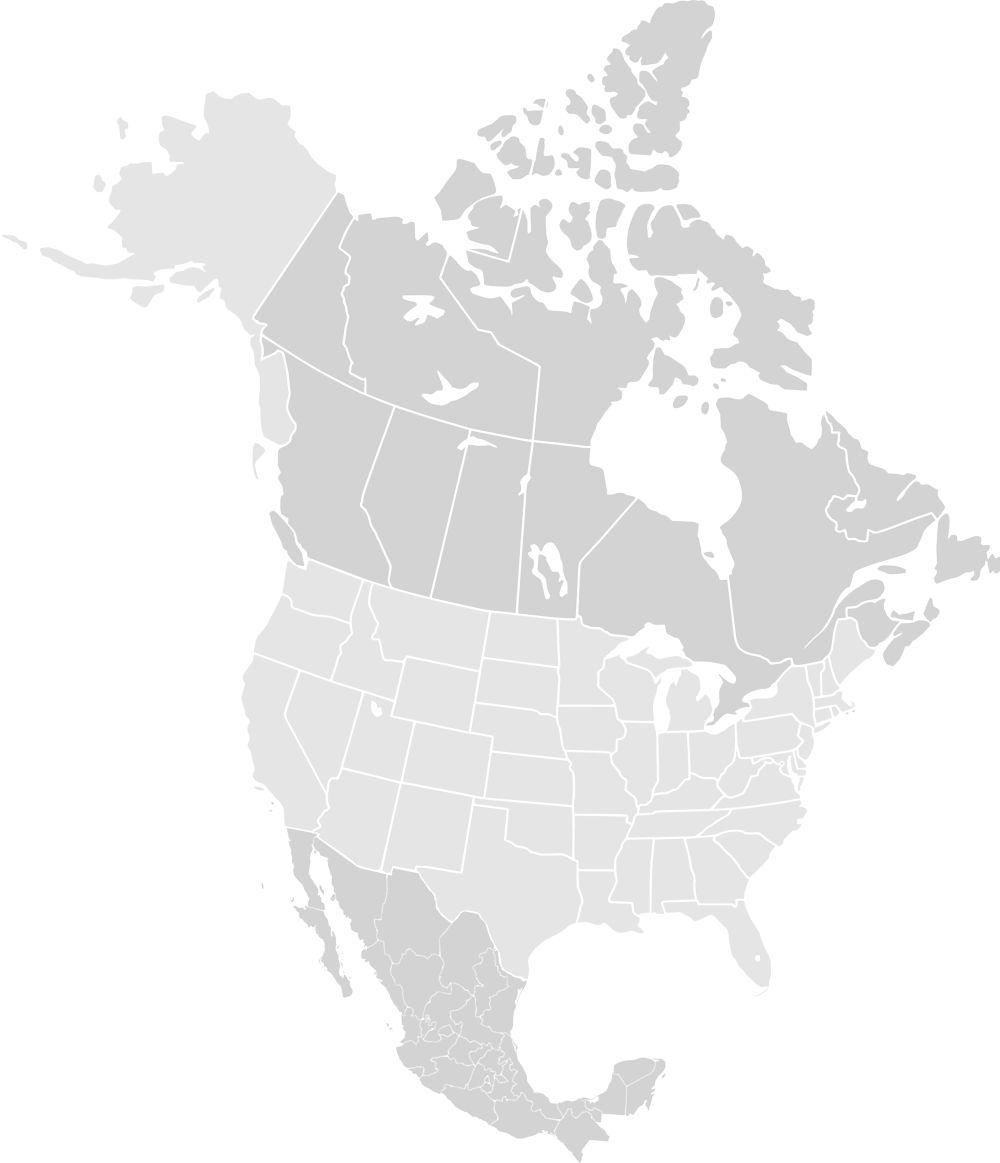 1Based on Annual Customs' Clearances.
About the Customs Clearance Process
Keeping current with import and export compliance is increasingly difficult for shippers, Trans American is a reliable partner to ensure proper clearance for imports and declare all exports. Through effective compliance, release, and analysis, Trans American helps clients manage the cost of importing and exporting while serving as a valued partner in the overall logistics process. We don't see Customs and logistics as necessary evils but as opportunities to seek out competitive advantages for our clients.
As one of the largest Customs Brokers in the U.S., Trans American understands and addresses the complexities of trade regulations and agreements at all levels — international, national, state, and local. As a licensed Customs Broker, we seamlessly control and manage the process, meet the requirements of the constantly evolving regulatory environment, file your documentation electronically, and minimize the current and future cost of potential non-compliance.
We will advise and assist on admissibility of your merchandise and the level of Customs duties associated with those shipments. Our Customs business incorporates innovative processes, 'out of the box' thinking, and creative logistics solutions to meet your needs on every shipment.
We not only clear your shipment through Customs, but also calculate duties and taxes, prepare Customs bonds, manage any preparation and filing of proper documentation, and handle issues such as duty drawbacks and trade facilitation.
Innovation Timeline 1984 - 2022
For over 35 years Trans American has been spearheading 'firsts' in the Customs Brokerage industry to empower clients.
1984
1st to require only licensed Customs Brokers appointed as Client Acct. Mgrs.
1984
1st to allow only licensed Customs Brokers to communicate with Customs and OGAs.
1986
1st to develop specialized service for high volume shippers.
1987
1st to provide centralized single source service vs. offices at each port of entry.
1987
1st to modernize Customs Broker fee to apply economy of scale to service fees.
1987
1st to Guarantee Service Performance.
1988
1st to offer Summary/Batch Invoicing for high volume Clients.
1988
1st to incorporate Client specific accounting analytics to facilitate audit and payment.
1989
Successful initiative for U.S. Customs to accept FAX documents as legal docs.
1990
1st to provide integrated U.S., Canada & Mexico Customs services (previously Customs Brokers only offered service in their home country).
1991
Successful initiative for Customs to accept digital files vs. hard copies.
1992
Successful initiative to file U.S. Clearances remotely vs. at the port of entry. TA's President was "white horse" for the U.S. Customs Commissioner...a major change.
1995
1st to provide Demurrage Protection Guarantee for Ocean Imports.
1997
1st to provide All Clear, single source for all ports in U.S., Canada & Mexico.
1998
Launched integrated import & export transportation services.
2000
Launched TRANSlink™ a web based Trade Resources
2004
1st to design, manufacture & deploy E-Customs Kiosks™ at border crossings, shipper sites in Canada & Mexico.
2007
Launched EZ-EDI™ for technically challenged importers.
2007
Launch of TranSure™ Freight Brokerage & TA Global Logistics™ NVOCC & ff divisions to provide a single (fully integrated) source for Customs and Logistics Import and Export services.
2010
Launched TRANStrak™ auto Client alerts.
2011
Launched Client Performance Scoring on a 1-5 scale.
2013
Transitioned to completely paperless environment.
2015
Launched TRANSparency™ Supply Chain Intelligence for C-Level Executives.
2015
Launched TRANS HEAVY™ Heavy Weight Container Port Drayage Program.
2015
Launched TRANStrak web based access for Supply Chain Visibility (P.O. to P.O.D.)
2016
Launched CONCIERGE Plus™ Ocean Freight Management from P.O. to P.O.D.
2017
Launched TRANSParency™ web-based Supply Chain Data Analytics module.
2017
Launched TRANSlink Manager Plus™ P.O. generation and upload to TRANSparency™
2017
Launched Customs Compliance Report Card Enhancements - "Know your Compliance Score before Customs knocks on your door"
2018
Launched Trade Data Guard™ - blocks 'confidential' Importer data visibility from competitors.
2018
U.S. Customs selects TA as a Pilot Customs Broker to test CBMA credit process.
2018
TA opens Latin American office in Colombia.
2019
TA Canada is 1st Customs Broker to require all IORs to comply with CARM 2020 project.
2019
Launched TRANSParency Pro™ Import Tax, Duty & Broker spend Analytics Dashboards to show full transparency of Import history in real-time.
2020
Launched TRANSparency PRO™ V 2.2 with enhanced "Financial Analytic" dashboards enabling Client real-time visibility of their Customs and Transportation "SPENDS". Clients have complete and total Transparency of expenses for superior audit and Compliance.
2020
Launched TRANSparency PRO™ V 2.3 with enhanced A-I with real-time visibility of "Unpredictable" expenses, special Customs Duty treatment (U.S.M.C.A., Canada CUSMA & SIMA), container detention, demurrage, and storage charges, etc. with "cause" identification.
2020
First Canadian Customs Broker to roll out Canada Customs new "CARM" (Canada And Revenue Management) to our Clients, enabling them to set up their own CARM accounts with Canada Customs.
2020
Launched a highly successful campaign to establish complete EDI connectivity with Clients. This has led to a 99.9% accuracy in processing "Customs Data" and moved the participating Clients into a completely paperless environment and optimal Customs Compliance.
2021
TA partnered with U.S. Customs to develop the Northern Border "Anti-Contraband Import Program." U.S. Importers in N. America transmit their Commercial Invoice data with selected Carrier information, at least 24 hours prior to their U.S. PAPS Border Clearance. The TA audit FLAGs discrepancies between the Importer's and their Carrier's U.S. Customs Data in real time for immediate NOTIFICATION to U.S. Customs. This initiative has caught several contraband shipments at the Port Huron Border crossing, protecting our Client from a Compliance Violation and potential monetary Penalty.
2021
Launched TRANSlink Invoice Pro™ for technically challenged importers to use TA's Portal to create U.S. and CANADA Custom's "Friendly" Commercial Invoice Templates in seconds. Guaranteed compliance with reduced EDI prices!
2021
Launched TRANSMex™ platform to file complete Mexican Border XML file EDI paperless Customs clearances.
2021
Launched TA's Proprietary Inland Transportation and Drayage system called "TRANSURE LOAD". This feature rich Transportation Management System (TMS) helps expedite load information because it feeds directly from TA's Customs and Freight Forwarding systems with seamless and advanced data integrations. The result is a best-in-breed proprietary platform that enables our logistics experts to execute much more efficiently than a 3rd party system.
2022
Launched the first "TA Super315" EDI Messages with the Ocean Carriers, which combines the normal EDI 315 messages with the SCAC codes and Arrival Notice data from the EDI 312 messages. Recently added "ETA" dates for greater Client visibility.
2022
TA Canada Launched their Ocean EDI Arrival Notice Integration Project. This allows TA to combine the EDI Commercial Invoice Custom's Data with Ocean Carrier "Arrival Notices" which includes the Cargo Control Numbers for a complete & seamless paperless electronic PARS entry.
2022
TA partners with ITS Next Generation Software for U.S. Customs filings and software upgrades for a sturdier security of our systems.
2022
TA invests significantly into a robust Cyber Security Protocol to enhance security in our Servers, Software, E-mail, and computers as a long-term investment for the future.
2022
TA moves to a Remote Work Setting and eliminates hardware phones though Microsoft Teams O365 integrations for each employee terminal. We have embraced this new level of green efficiencies which is a win-win for our employees, Clients, and the company.
Keep Your Business Moving
We know there's a lot at stake. A complex environment that's becoming more complicated every year, Customs clearance must be handled properly or shippers risk delays, penalties, and other challenges. As your Automated Manifest System (AMS) and Customs-Trade Partnership Against Terrorism (CTPAT) compliant partner, Trans American helps you avoid delays and keeps your business running smoothly. Using our tools, logistics experience, and consulting services, your business will receive reliable, consistent service with no interruptions.
If your shipment has special clearance needs — when regulatory agency approval is needed, for example, or when special processing is required — our licensed Customs Brokers have the experience to handle the situation quickly and effectively. We'll also orchestrate the payment and processing of import duties and tariffs, and facilitate the ultimate delivery of goods.
Well versed in the latest U.S Customs regulations, including Import Security Filing (ISF 10+2), our Customs team streamlines your importing and exporting operations and allows you to focus on what you do best: building and growing your business.
Single Point of Customs Expertise
Trans American Customs activities are spearheaded at the client level by a Personal Account Manager (PAM). Each PAM is a licensed Customs Broker supported by a client service team and has client-specific industry experience. All Trans American clients enjoy a superior relationship with Customs agencies due to the fact that only Trans American licensed Customs Brokers are authorized to communicate directly with Customs. We maintain the very highest industry compliance not only with Customs, but also with all participating government agencies that regulate imports and exports.
Unlike traditional Customs Brokers, we specialize in client-specific services that cater to moderate and high-volume importers. Since 1984, we've been serious about compliance but also serious about innovation having pioneered nearly 20 industry 'firsts', including the development of new products, services, processes and technologies. These innovations have helped our clients realize their global ambitions.
Beyond Customs clearance and related services, to support our clients across their entire supply chain we also specialize in:
Trans American's Customs Clearance Tools
To make the Customs clearance process as efficient and transparent as possible for our clients, we offer the following platforms:
E-Bill
Password-protected web access for electronic billing. E-Bill allows clients 24/7/365 access to invoices with support documents required for Customs record keeping compliance.
EZ-EDI
Client access proprietary software which automatically converts hard copy documents to EDI formats for transmission to Customs.
E-Customs Broker Kiosk
Clients utilize freestanding kiosks, located at or near border crossings, inland truck terminals, and client sites to prepare and file E-Manifests and access live Client Service personnel 24/7/365. The kiosks are approved by U.S and Canada Customs. All communication between the user (typically a truck driver) and Trans American is video recorded.
TransLink™
Primary content creation tool enables our clients to create Client specific documentation such as Purchase Orders, Commercial Invoices, Canada Customs Invoices, and Importer Security Filings efficiently and effectively through our website.
ClearBorder™
With online access to the ClearBorder™ web tool, carriers can easily confirm the status of U.S. Customs and Border Protection's PAPS and Canada Customs' PARS shipments pre-arrival (border) status. The FDA status (updates) will post automatically, i.e. 'May Proceed', 'Hold', 'Sample', etc.
TransTrak™
Proprietary shipment tracking system permits tracking from departure to final delivery. Our system seamlessly integrates shipping, trucking, Customs clearance, FDA, EPA, and additional logistics provider information into a single portal. Client-specific 24/7/365 online tracking and an unparalleled ability to carry out transactions from anywhere are available at any time on the Trans American website.
EZ-Report Writer
Clients enjoy the flexibility to independently query shipment data and generate customized reports through our website. Shipment status is available in real time 24/7.
For more information about how Trans American can help discover your competitive edge, please contact us today.
What Makes Us Different?
We're different, because you're different. We appreciate that no two clients are the same. Each has individual requirements, priorities and ambitions. Our origins as an in-house broker has uniquely equipped us with the ability to approach things from a client perspective. We obsess about helping each client achieve their goals. We immerse ourselves in our clients' business to gain a deep understanding of their priorities. We then co-create tailored action plans and deploy the necessary resources.
Each client is supported by a dedicated Personal Account Manager, who is a licensed Customs Broker, and Service Team who are committed to flawless execution while relentlessly seeking out improvement opportunities every step of the way. All that we do is geared toward empowering clients with real, customized competitive advantages. Our business is to empower your business.